Stephen Lamson, 3rd Generation Custom Builder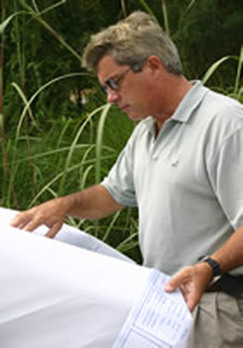 We understand that you want the highest quality construction with special attention to all those small, but ever so important, details that make your home stand apart from the rest. Our homes are always planned and executed this way; that is our passion and our promise.

There are literally thousands of components that will go into the construction of your custom home. Coordinating that effort requires skill, years of experience and a commitment to quality. As a third generation builder, my more than three decades of experience provides the stability and know-how to do the job right. From the initial siting and grading, through applying stain to fine woodwork or installing exquisite cabinetry, I work shoulder to shoulder to personally supervise even the most minute detail.

You can rest assured that your home will have the individual attention it deserves.

Stephen D. Lamson
President, Terrain, Ltd.
The Terrain Promise...


Attention to Detail

There are many details that go into the construction of a custom home. Coordinating that effort requires skill, experience and a commitment to quality. Our attention to each of those details is the Terrain mission and promise to our clients.

Terrain works on projects ranging from $20,000.00 kitchen remodels to complete construction of new homes. Instead of striving to be a high-volume home builder, we choose to focus on excellence and customer service. For us, building homes is about quality, not quantity.

Fiscal Responsibility

Fiscal responsibility is one key to successfully working with architects and homeowners. Terrain will provide detailed financial information on your project, which is broken down with cost-to-date and estimated cost-to-completion information for each of the roughly one hundred categories of any project.

From the first estimate to the day we hand over the keys and shake hands on a completed project, our accounting is clear, transparent, and perfect to the last penny. This commitment to fiscal responsibility sets Terrain apart from the pack.

Having over two decades of professional property management experience, Steve Lamson is certified by CMCA in New York and approved by several major banking institutions for construction oversight.

Turnkey Reassurance

Our company provides a full-service, turnkey approach to building homes. We like to be involved with every element and phase of your home building or remodeling experience.



Team Effort

Building a custom home is a team effort, with trade contractors hand-picked for their craftsmanship and reliability. We work hands on to oversee the work to ensure quality control, and keep the job on schedule. By including Terrain at the very beginning of a project, you benefit from our cost-saving expertise on such issues as site selection, local infrastructure, municipal codes, schedule, building material and systems evaluation.


Communication

Our relationship with clients is built on trust and continuous contact throughout the building process. We will anticipate your questions, provide you with detailed schedules, and provide the information you need to make decisions easily and efficiently.

"When we embarked on our project to build a weekend retreat for our family in Southampton Village, we interviewed and solicited proposals from a number of local and experienced custom builders whose finished projects in Southampton Village we found appealing. For us, the most important traits in selecting a custom builder were trust and a high service level. Steve and his team at Terrain proved to be the best choice for us and we have been grateful ever since for having made that decision. Terrain's high quality craftsmanship, attention to detail, advance planning and local know-how and relationships made the process as smooth as one could possibly expect. Steve worked seamlessly with our architect, who did not have a previous relationship with Terrain, and he has also become a strong supporter of Terrain. A year after the house was completed, the interior and exterior construction have remained solid and settled in nicely. We will maintain a relationship with Steve and Terrain and hope we can work on another project together in the future." - Homeowner, Southampton Village

"Steve Lamson and Terrain Construction renovated a "late 1800s" home for us. There were a number of critical elements, including maintaining the integrity of it's historical significance, dealing with numerous challenges related to it's age, and the care and consideration of the property's substantial gardens, which required specialized building procedures. We chose Steve for a number of reasons but the key one, for us, was the professional, yet still personal, nature that he brought to the relationship. We knew we had Steve as a partner, essentially on a 24/7 basis. He was always responsive and personable throughout what was an 18 month major project.
There is a wonderful book, "House Hampton; 21 Houses for the 21st Century", that features our home. The book and its photographs speak to the house's quality of workmanship. We asked for, and got, great attention to detail and the house has passed the test of time with flying colors. We continue to get compliments on the quality of finishes throughout the house, particularly the walnut floors, kitchen and paneled library. In fact, we have had other contractors compliment us on it and ask us who performed the work.
Steve Lamson remains a dear friend to this day, a testament to his skill as well as his character."
- Homeowner, Hill Street, Southampton

"Working with Steve Lamson at Terrain to build our home was a wonderful experience. Steve was there with us from the beginning and he watched over the entire construction process ensuring our vision for a dream home. The fact that Steve and I are still friends more than a decade later is a testament to how Steve strives to develop a relationship with his clients. If I build another home in the Hamptons, Steve will be the first person I call!" - Blair West, Southampton